ABOUT TEN MILE BLANKETS
Ten Mile Blankets are custom-made pieces, designed and crafted in my home at the base of Mount Royal in Frisco, Colorado. Colorful as Colorado, they're named after the surrounding peaks, starting with those in the Ten Mile Range of the Rocky Mountains, which begin in Frisco and ramble on towards Breckenridge. 
The designs are inspired by traditional Amish patterns, which I have always admired for being both traditional and modern at the same time.
I showed these blankets to my friends, who bought them for their homes, for wedding gifts and for the arrivals of new babies. Not your traditional light pink and light blue colors, the baby blankets are definitely warm blankets for very cool babies. 
Ten Mile Blankets are made from two layers of 100% recycled USA-made Polartec 200 weight fleece. They are super soft, cushy and machine washable.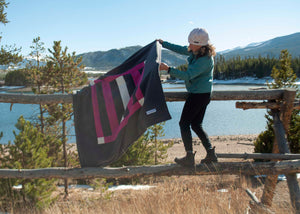 ABOUT ANNIE
I've wanted to make these blankets since the first time I saw clothing made out of Polartec fabric. The colors were gorgeous, and the fabric- made of recycled plastic bottles- was incredibly soft and plush. Polartec has a great history, and I admired that. 
When I go to the recycling center, I can't help but peek into the dumpster that is filled to the brim with plastic bottles.  While I try to limit the plastic I use, Polartec uses the contents of those dumpsters and weaves it into a product that has become a go-to fabric for so many applications. 
 After years of toying with the idea of making blankets out of this super soft fabric, it took my kids saying "MOM, when are you actually going to make these blankets?" for me to get to work. I dusted off my father's industrial Singer machine, oiled it, gave it a few days of rest and time to absorb and prepare for its second career and started sewing. We experienced some unfortunate sound, replaced the motor,  some worn metal fittings, belts and other odds and ends, and this 80 year old machine was back in business. 
Follow me on Instagram @Tenmileblankets. You'll see nice pups, nice pics, and nice blankets.
I care about packaging! All packing materials are made from 100% recycled paper.  I hope you reuse and recycle too!